1⁄53 scale VNL 780 Details
Hood
The hood opens accuratey just as the read life,Under the hood is extreme and accurate hand painted detail.
Removable Roof
This fun feature allows you to view a highly detailed and accurate interior of all 1/53 scale trucks.
Battery Box
The battery box interior details can be revealed when opening the battery box door.This opens just as it would on the real truck.
5th Wheel
This 5th wheel hinges smoothly for any trailer attachment.Some models have an adjustable 5th wheel.
Interior
All 1/53 scale models have highly detailed interiors.We have fun features such as;chairs & tables that swivel, textured bedding and walls,printed dashboards & rear windows
Decals
When it comes to custom or standard decal pring,we choose from 3 styles of application to get the best outcome and quality based on the design of the decals.
Engine
The VNL 780 has a precise replica of a Cummins ISX Engine. Each models has its unique engine differences with tampo printed & hand painted details.
1⁄50 scale 775G Off-Highway Truck Details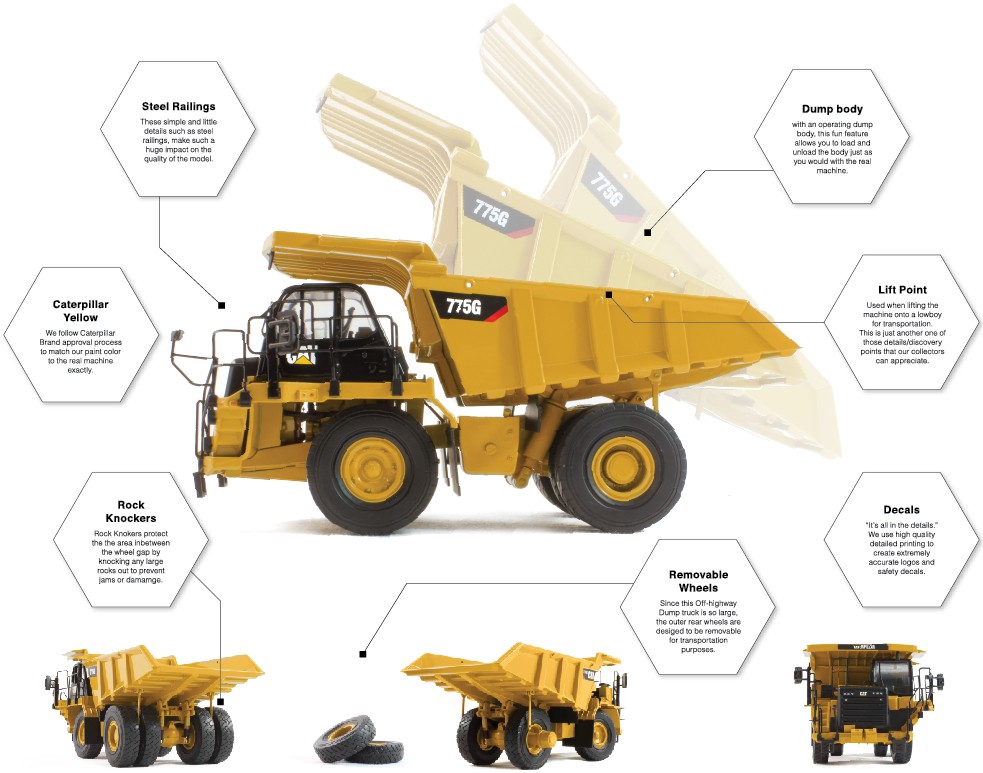 Steel Railings
These simple and little detail such as steel railings,make such a huge impact on the quality of the model.
Dump body
with an operating dump body,this fun feature allows you to load and unload the body just as you would with the real machine.
Caterpillar Yellow
We follow Caterpillar Brand approval process to match our paint color to the real machine exactly.
Lift Point
Used when lifting the machine onto a lowboy for transportation.This is just another one of those details/discovery points that our collectors can appreciate.
Rock Knockers
Rock Knokers protect the the area inbetween the wheel gap by knocking any large rocks out to prevent jams or damamge.
Decals
"It's all in the details."We use high quality detailed printing to create extremely accurate logos and safety decals.
Removable Wheels
Since this Off-highway Dump truck is so large,the outer rear wheels are desiged to be removable for transportation purposes.